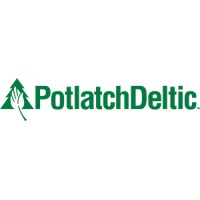 Employment Verification for
PotlatchDeltic

.
Truv provides quick, secure and cost-effective employment and income verifications for thousands of verifiers. Complete verifications in under 24 hours with 50% cost savings compared to competitors.
About
PotlatchDeltic
PotlatchDeltic is a leading Real Estate Investment Trust (REIT) company based in America, specializing in timberland management and wood products operations. Established in 2018 as a result of the merger of Potlatch Corporation and Deltic Timber Corporation, the company operates in seven different states and owns more than 1.8 million acres of forestland. PotlatchDeltic's primary business operations include the production and sale of lumber, plywood, and MDF products, making it one of the largest timberland owners and lumber producers in the United States. The company also engages in the management and leasing of its land to third-party companies for various uses such as recreational activities, hunting, and mining. With a focus on sustainability and environmental stewardship, PotlatchDeltic has implemented responsible forestry practices, including rigorous reforestation efforts and the management of wildlife habitats, to ensure the long-term viability of its forests. The company has also implemented high safety standards in its operations to ensure a safe working environment for its employees. In addition to its business operations, PotlatchDeltic also has a strong focus on community engagement, with various programs aimed at supporting local communities through charitable donations and volunteer work. As of 2021, the company had an approximate net income of $287 million, demonstrating its successful position in the timberland and wood products industry.
The information on this page is not an endorsement of Truv's services by PotlatchDeltic and is meant to be purely informational.
Verify
PotlatchDeltic

Employees

Truv provides quick, secure and cost-effective employment and income verifications for thousands of verifiers. The process is simple and automated and most employees are verified in under 24 hours. You only pay for successful verification and can save on average 50% compared to competitors. Thousands of verifiers love Truv because it's been never been easier and more streamlined to verify an employee, learn more.
Number of employees
1000.0 – 5000.0
Address
601 W 1St Ave Ste 1600, Spokane, WA, 99201
Not the Employer You
were Looking for?
Not the Employer You were Looking for?
People also verify employees at…
Learn more about verifications...