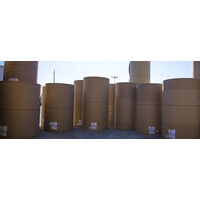 Employment Verification for NEW-INDY CONTAINERBOARD
About
NEW-INDY CONTAINERBOARD
New-Indy Containerboard, LLC was formed in 2012 as a joint venture by the Kraft Group, LLC and the Schwarz Partners, LP. We are the NEWest, INDYpendent manufacturer and supplier of recycled containerboard to the corrugated box industry. However, the company is comprised of owners and leadership with decades of experience, and the paperboard mills have been serving the Southland for thirty plus years. NICB uses 100% recycled fiber in our manufacturing process. The mills receive over 100 truckloads of Old Corrugated Containers (OCC) on a daily basis. This material is reduced to a slurry and then re-formed to create new brown paper. The recycled paper is then sent to box plants throughout our local markets. Each of the two California locations has a co-generation power plant that not only provides 100% of the mill's electrical power needs, but also supplies power to thousands of CA homes and businesses through our partnership with Southern California Edison. In addition, the mills purchase recycled water from the local utilities, and our processes conserve water by recycling it multiple times. Over the years, our mills have undergone major improvements, including installation of advanced air emissions control equipment (which reduce emissions of nitrogen oxides), waste-water treatment plants (which clean and recycle waste-water) and numerous other upgrades. We have enjoyed multiple years of operation without any environmental Notices of Violation. We believe our focus on environmentally conscious manufacturing processes and supply chain solutions will enable us to maintain a strong business presence in the markets we serve for many years to come.
Verify your employment at NEW-INDY CONTAINERBOARD
TRUV allows you to complete employee, employment and income verifications faster. The process is simple and automated, and most employees are verified within 24 hours. Verifiers love TRUV because it's never been easier and more streamlined to verify an employee.
Number of employees
600

–

20000
Address
3500 PORSCHE WAY STE 150, Ontario, CA, 91764
Create an account instantly and start building with Truv. You can also contact us to design a custom package for your business.
Learn more about
verifications