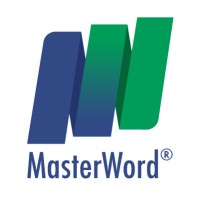 Employment Verification for MasterWord
About
MasterWord
MasterWord – Any Language • Any Time® Connecting People Across Language and Culture® We offer translation and interpreting services, cultural training and consultancy in preparation for regulatory audits, linguist assessments, and language proficiency testing. We work with over 400 languages and dialects, ranging from those most widespread, including Chinese, Spanish, Arabic, English, French, and Russian, to the less common, such as Polish, Serbo-Croatian, Turkish, and American Sign Language (ASL), among others. MasterWord provides the following services: • Professional Interpreting Services: in-person, over-the-phone interpretation (OPI), video remote interpretation (VRI), conference simultaneous interpretation. MasterWord Services provides certified court interpreters and MasterWord certified healthcare (medical) interpreters, including American Sign Language (ASL) interpreters and other industry-specific language specialists. • Professional Language Translation Services: technical, legal, medical, business, and literary documents and files, including e-Learning and e-Training development, translation of websites and software localization. • Cultural training and consultancy services for regulatory compliance. • Turn-key project support, including glossary development, onsite services, and tailor-made expert solutions. • Linguist assessments and language proficiency testing. • Delegation support. We guarantee quick response times, 24/7 availability, and full confidentiality to our clients.
Verify your employment at MasterWord
TRUV allows you to complete employee, employment and income verifications faster. The process is simple and automated, and most employees are verified within 24 hours. Verifiers love TRUV because it's never been easier and more streamlined to verify an employee.
Number of employees
600

–

20000
Create an account instantly and start building with Truv. You can also contact us to design a custom package for your business.
Learn more about
verifications