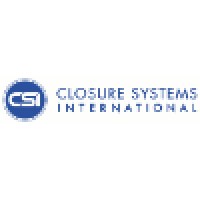 Employment Verification for Closure Systems International
About
Closure Systems International
Closure Systems International Inc (CSI) is a global leader in designing and manufacturing innovative closures for a wide range of applications in consumer and industrial markets. In addition to high quality closures and capping equipment, CSI provides unparalleled customer and technical services for high-speed application systems. Major categories served include carbonated soft drinks, bottled water, juices, isotonics, teas, adult beverages, dairy, foods, pharmaceutical and automotive fluids. CSI's cutting-edge closure solutions help customers maximize profits by increasing the marketability of their brands and optimizing their total cost of operations. From reducing the impact of manufacturing operations to an industry-leading suite of sustainable closure profiles, CSI's sustainability expertise and sustainable product offerings ensure customers stay on top of market trends and consumer demands. CSI is headquartered in Indianapolis, IN, and produces 50+ billion closures annually across its 9 manufacturing sites. For more information, visit CSI's website at http://www.csiclosures.com.
Verify your employment at Closure Systems International
TRUV allows you to complete employee, employment and income verifications faster. The process is simple and automated, and most employees are verified within 24 hours. Verifiers love TRUV because it's never been easier and more streamlined to verify an employee.
Number of employees
600

–

20000
Create an account instantly and start building with Truv. You can also contact us to design a custom package for your business.
Learn more about
verifications