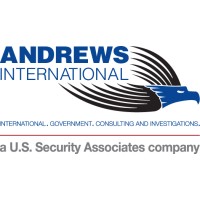 Employment Verification for Andrews International
About
Andrews International
Twenty-five years ago Andrews International (AI) began forming a network of the world's foremost security authorities and connecting with strategic partners for operations resources and security services expertise around the globe. Today, Andrews International is the wholly owned division of U.S. Security Associates operating as the government services, consulting and investigations and international arm. Founded in Los Angeles, AI focused initially on delivering contract security services for Hollywood studios. The company quickly distinguished itself with experienced managers from law enforcement and military backgrounds, and highly skilled security officers performing to unique specifications. Customized security programs, a multi-million dollar training center, and innovations like the industry's first anti-piracy program fueled AI's reputation as the best security company for specialized security solutions. With connections and relationships developed over the past quarter century, AI is attracting today's top security company talent and setting benchmarks in the industry. Through a global network that includes 150 strategic partnerships and offices in the U.S., Canada, Mexico, Honduras, and United Kingdom, AI provides clients with resources on the ground and critical intelligence anywhere in the world. With every new connection – each new client, each new employee and each new partner – we have greater security service expertise, insight and resources to offer our clients. That's what being "linked in" means to us.
Verify your employment at Andrews International
TRUV allows you to complete employee, employment and income verifications faster. The process is simple and automated, and most employees are verified within 24 hours. Verifiers love TRUV because it's never been easier and more streamlined to verify an employee.
Number of employees
600

–

20000
Address
28001 SMYTH DR STE 106, Valencia, CA, 91355
Create an account instantly and start building with Truv. You can also contact us to design a custom package for your business.
Learn more about
verifications