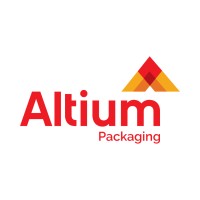 Employment Verification for Altium Packaging
About
Altium Packaging
Altium Packaging is the leading customer-centric packaging solutions provider that helps you build your business and elevate your brand to the next level. We are supported by a network of plants throughout the U.S. and Canada and 100 years of quality and service. With the combination of our state-of-the-art design center, our dedication to innovation, customized products and patented processes, our team of over 3,000 associates are all committed to meeting and anticipating market and customer needs. Altium Packaging offers more than a career; it is also "home" to more than 3,000 team members. Altium's commitment to excellence extends from our family of employees to our valued clients and is the reason why leading companies around the country have confidence in our innovation, and unsurpassed quality and service. Visit http://www.altiumpkg.com for your next successful career move today!
Verify your employment at Altium Packaging
TRUV allows you to complete employee, employment and income verifications faster. The process is simple and automated, and most employees are verified within 24 hours. Verifiers love TRUV because it's never been easier and more streamlined to verify an employee.
Number of employees
600

–

20000
Create an account instantly and start building with Truv. You can also contact us to design a custom package for your business.
Learn more about
verifications