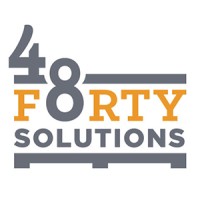 Employment Verification for 48forty Solutions
About
48forty Solutions
We're here to make pallet management simple for your company. 48forty Solutions is the largest pallet management services company in North America, with a national network of over 225 facilities, including 45 company-owned and operated plants and more than 180 affiliates. We also operate our own fleet of 4,500 trailers and nearly 300 power units. Trusted by over 2,700 customers across a wide variety of industries, we provide reliable, cost effective end-to-end pallet solutions, from supply to retrieval, on-site services, reverse logistics, and more. Our facilities and fleet are company owned and operated, not just a network of regional companies working together. This means consistent quality and pricing and a higher level of service and accountability to our customers. In each market we serve, local teams know your business inside and out. We put our strength to work where it counts. Ready to increase your company's efficiency? Visit 48forty.com to learn more.
Verify your employment at 48forty Solutions
TRUV allows you to complete employee, employment and income verifications faster. The process is simple and automated, and most employees are verified within 24 hours. Verifiers love TRUV because it's never been easier and more streamlined to verify an employee.
Number of employees
600

–

20000
Address
3650 MANSELL RD STE 100, Alpharetta, GA, 30022
Create an account instantly and start building with Truv. You can also contact us to design a custom package for your business.
Learn more about
verifications